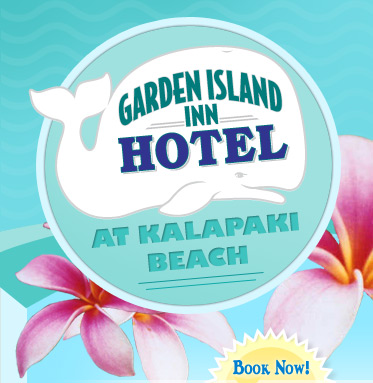 Toll-free: 800 648 0154 Reservations:
808 245 7227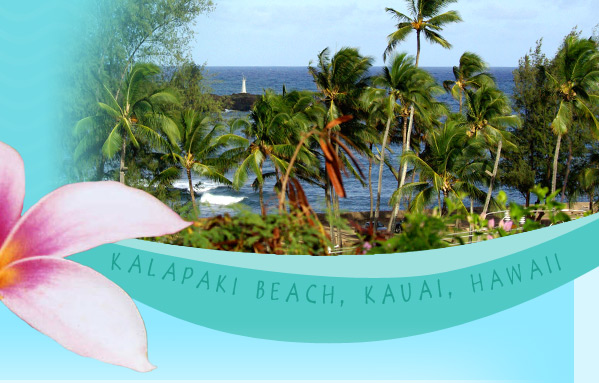 Prime Location: The Garden Island Inn Your affordable vacation accommodation by lovely Kalapaki Beach, with easy access from the Lihue, Kauai airport.
Kalapaki Bay The Garden Island Inn is located by the lovely Kalapaki Beach and Bay, the Kauai Marriott and Lagoons and the Nawiliwili Harbor. Kalapaki Beach offers safe surfing, stand up paddle boarding, canoeing, kayaking, sailing for beginners to intermediate, fishing or just plain relaxing and sunning.
This is Kauai's center for shopping, live music and dining with a choice of 10 of Kauai's finest restaurants all within a short walk. This means no night driving on Kauai's narrow dark roads! The Garden Island Inn has quick and easy access from the Lihue Airport and to all the sights and activities Kauai has to offer.
Let us be your home away from home while you discover Kauai!
Within walking distance:
2 minutes
Kalapaki Beach
2 minutes
Duke's Restaurant:
Fine dining, live entertainment and casual "barefoot bar"
2-4 minutes
10 other restaurants
2 minutes
Kalapaki Beach Boys rentals & lessons:
surfboards, stand-up paddle boards, kayaks, catamarans
3 minutes
Kauai Marriott resort and shops
5 minutes
Golf, jogging, biking at Kauai Lagoons
5 minutes
Cruise Ship
10 minutes
Lighthouses
10 minutes
Nawiliwili Small Boat Harbor
In the Area:
| | |
| --- | --- |
| .25 mile | Kauai Marriott resort and shops |
| 2 miles | County & State camping permits |
| 2 miles | Kauai Museum cultural and art exhibits |
| 2 miles | Costco & Kukui Grove mall |
| 4 miles | Wal-mart & Hilo Hattie |
| 4 miles | Lihue Airport & helicopter tours |
| 6 miles | Wailua Falls |
About Kalapaki Beach, Kauai

"There may be no more peaceful beach on all of Kauai than Kalapaki Beach. From its calm breezes to its moderate temperatures to its kid friendly waves that make it one of the most inviting swimming beaches anywhere, Kalapaki Beach beckons you to come and experience it. The crescent-shaped beach adjacent to the palatial Kauai Marriott opens up to the crystal blue waters of Nawiliwili Bay and the Hoary Head Mountains beyond, as well as the Kauai Lagoons--40 acres of freshwater tropical lagoons that serve as a sanctuary for exotic wildlife. When you're not swimming, you can enjoy surf lessons, catamaran cruises, beach volleyball, bodysurfing, windsurfing, boogie boarding, or a round of golf at Kauai Lagoons championship golf course. After all that activity, nothing is quite as enjoyable as drifting off to sleep under an umbrella on our beautiful sandy beach. Ahhhh."
Reprinted from dukeskauai.com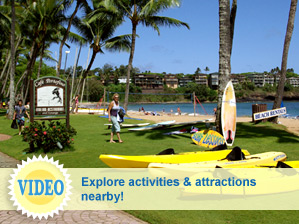 Click on the map below to view our excellent location near the airport and beautiful Kalapaki Beach, with walking and driving distances to nearby activities: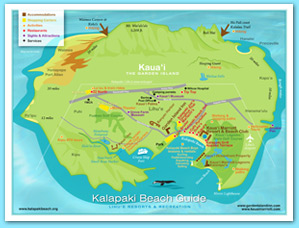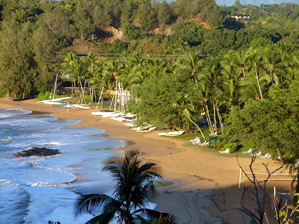 Kalapaki Beach, Kauai - a 2-minute walk from
The Garden Island Inn!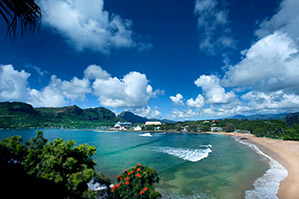 Another view of Kalapaki Beach